Homemade Vegetable soup is a healthful meal option when you don't have enough time to put together a complete meal. You can easily make vegetable soup at home with just a few ingredients!
Vegetables are a nutrient-dense food group that plays a vital role in human health and nutrition. They're naturally rich in fiber, potassium, vitamins, minerals, and amino acids. Many people believe that consuming vegetables reduces the risk of heart disease and helps you maintain healthy body weight. However, many people don't consume enough vegetables to meet their daily requirement.
Vegetable soup is a great way to use up your leftover veggies. You can also add extra ingredients such as diced bell peppers or minced garlic to make new variations. You can also add spices such as turmeric or cumin to give your soup some added flavor. This is a great way to get some fresh veggies into your diet! Fortunately, by following our precise video instructions, you can prepare your own vegetable soup at home. Try it out tonight!
(Look below to learn what our ONLINE students have to say about this course).
Topics Covered:
Broccoli & Almond Soup
Sweet Corn Soup
Garlic – Mushroom Soup
Cream of Spinach Soup
Lemon & Coriander Soup
Minestrone Soup
Garlic Pea Soup
Talumein Soup
Veg Stock
Wanton Clear Soup
Fee @ Rs.1500/- Buy Now
Made by ONLINE students after watching the video tutorials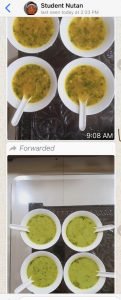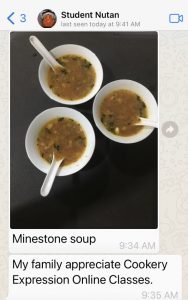 Online Class Details:
24×7 Access to Prerecorded videos for 2 months.
Learn from the comfort of your home.
Special secret tips & techniques shared.
Life time support over messenger and WhatsApp.
Recorded with clear audio and video quality.
JOIN FROM ANYWHERE!!
Method of Instruction: Video Tutorials & PDF Notes
Call/ Whatsapp 9560600056 now and REGISTER for the ONLINE class.