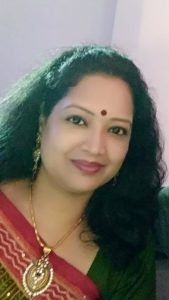 We all have experienced the excitement of Birthdays, Marriage Anniversaries, Diwali, Christmas, and New Year's Eve parties, where we indulge in some of those delicious desserts that we enjoy so much — one is bound to end up with messy hands and sticky fingers. That is where I come in. If you are tired of the same old recipes and want to try something new this time around, then come on and get baking with me!
I, Sharmila, am excited to welcome you into my world of delicious cakes, cookies, chocolates, breads, and more.
I know how it feels to dream of baking something delicious, but then get frustrated because no matter how hard you try your creations always taste like crap. I've been in your shoes and I want to share my knowledge with you. Join me for my ONLINE Classes at Cookery Expressions and learn from scratch!
Baking is a craft that many of us enjoy. Whether it's for a special occasion or just because, there's something therapeutic about creating something delicious from scratch. But what if you want to take your baking skills to the next level? That's where the online baking classes of Cookery Expressions come in! These classes provide detailed video tutorials that guide you through each step of the process, so you can make beautiful creations at home. From beginner-friendly classes to more advanced techniques, there's something for everyone. So whether you're looking to bake a cake for a special occasion or you want to start your own baking business, read on for more information.
Are you passionate about baking? Do you want to learn from the best in the industry? Well, now you can! With Online Baking Classes from Cookery Expressions, you can take government-certified baking classes from the comfort of your own home.
I am passionate about helping people achieve their baking goals, whether it be for themselves, for their friends, or for that special someone. I have years of experience in baking a variety of cakes, chocolates, breads, ice creams and more…
Baking is both an art and my one and only passion – something I've been perfecting for the past 22 years. Unlike what most people believe, baking is a skill that can be acquired with just a little bit of knowledge and practice. With my help, you'll be able to prepare all the yummy delicacies listed on my website in no time! I love sharing my passion for baking with others and do so through my online classes at Cookery Expressions. I share my passion for baking with you through my ONLINE classes at 'Cookery Expressions'. I personally coach students into being baking experts. Enroll for the best Baking Classes in Delhi.
Please message your WhatsApp number @ 9560600056 to join COOKERY EXPRESSIONS' BROADCAST LIST. Also please share this amongst your friends, family and colleagues. They might JUST be interested!!!!!
With over 10,000 enrolled students and 9000 classes held, Cookery Expressions is one of the largest online baking education providers in India. And with their new online video tutorials, they make learning baking easier and more convenient than ever before!
So what are you waiting for? Call/ WhatsApp 9560600056 now and register for the Online Baking Classes today!
Introduction to the Online Baking Class
Whether you're a novice baker or an experienced pro, our online baking classes are the perfect way to improve your skills in the comfort of your own home.
In our online baking classes, you'll learn how to make delicious desserts like cakes, cookies, pies, and more. We'll also teach you essential baking techniques, like how to measure ingredients correctly, how to correctly mix batter, and how to frost and decorate your creations. Plus, we'll share expert tips on troubleshooting common baking problems.
Our online baking classes are affordable and convenient – sign up today and start improving your baking skills!
Baking is a science, an art, and a delicious way to pass the time. And what better way to perfect your baking skills than by taking an online baking class? We'll provide tips on how to get the most out of your learning experience. So, whether you're a beginner or a seasoned pro, there's something for everyone!
Why Baking Is Therapeutic
Baking can be therapeutic for several reasons. First, the act of measuring, mixing, and preparing ingredients can be calming and meditative. The repetitive motions can help to clear your mind and focus your thoughts. Secondly, the process of baking itself is therapeutic. The warmth of the oven, the smells of the baking goods, and the satisfaction of seeing your creation come to life can all be calming and stress-relieving. Finally, sharing your baked goods with others can also be therapeutic. The act of giving something you made with your own hands is a great way to show someone you care about them.
The Benefits Of Taking An Online Baking Class
In an online baking class, you can learn at your own pace and recatch sections as often as you need. You'll have access to pre-recorded video tutorials that show you exactly how to bake certain items. Plus, our online classes come with downloadable PDFs of recipes and tips so that you can refer to them later.
One of the best things about taking an online baking class is that you can learn from the comfort of your own home. No need to worry about transportation or expensive ingredients – everything you need is right there at your fingertips. And if you're worried about not being able to ask questions, you can post questions on WhatsApp and get feedback from us.
The instructor will be teaching the class through pre-recorded video tutorials, and you will be able to watch and follow along at your own pace. In addition to the video tutorials, there will also be PDFs of recipes and tips & tricks that you can refer to throughout the class.
What You Will Need For The Class
In order to participate in our online baking class, you will need the following items:
-A mobile, laptop, or desktop computer with internet access.
-An OTG preferably 52 liters and above or a Microwave with Convection Oven preferably 32 liters.
-Baking supplies (flour, sugar, butter, baking powder, baking pans, measuring spoons etc.)
-We suggest that you first watch the video tutorials and then make the purchases accordingly.
-We have shared the suppliers' addresses and online links for your ease.
The Different Types Of Recipes You Will Learn
In our online baking classes, you will learn a variety of recipes, from the classic chocolate chip cookie to more advanced techniques like making a perfect pie crust. We have something for everyone, whether you're a beginner baker or a seasoned pro.
Our classes are led by Ms. Sharmila who has years of experience in the industry. She will guide you through the video tutorials and show each recipe step-by-step, so you can be sure that your baked goods will turn out just like the pros.
How To Sign Up For An Online Baking Class
If you're interested in learning how to bake, there are plenty of online courses available on this website: https://cookeryexpressions.co.in/
These classes come with pre-recorded video tutorials that you can watch at your own pace. Here's how to sign up for our online baking class:
1. Decide what type of baking class you want to take. There are classes available for all levels, from beginner to advanced.
2. Research the following different online baking courses on this website, and find one that fits your needs and budget.
3. Contact us on WhatsApp number 9560600056 with the name of the courses that you want to join.
4. We will then send you the registration and fee details. Once you make the payment, you can then start watching the video tutorials. Make sure to take notes and practice what you've learned!