Family gatherings, whether for a party or just an afternoon at the park, are made easier with pie and tart dishes. This collection of pie and tart recipes has something for everyone in your family, whether they want something sweet or savory.
Recipes for delectable pies and tarts can be found in this online detailed video tutorial. For any occasion, the BEST pies & tarts with assorted fillings, include cream, fruit, nuts, and more. You're sure to find a dessert here that you'll enjoy! These recipes' simplicity and deliciousness will pleasantly surprise you. For beautiful treats, learn how to prepare these pies and tarts.
(Look below to watch a preview of our ONLINE pre-recorded Class).
Topics Covered:
Mississippi Mud Pie
Apple Pie
Lemon Tarts
Fruit Tarts
Truffle Tarts
Vegetable Quiche
Fee @ Rs.2200/-
A preview of our ONLINE (pre-recorded) Class 
Made by ONLINE students after watching the video tutorials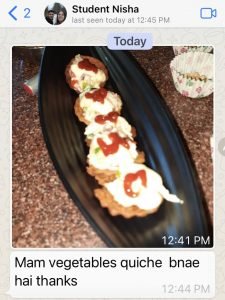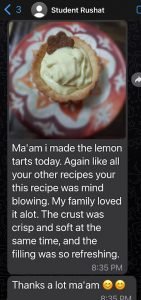 Online Class Details:
24×7 Access to Prerecorded videos for 2 months.
Learn from the comfort of your home.
Special secret tips & techniques shared.
Life time support over messenger and WhatsApp.
Recorded with clear audio and video quality.
JOIN FROM ANYWHERE!!
Method of Instruction: Video Tutorials & PDF Notes
Call/ Whatsapp 9560600056 now and REGISTER for the ONLINE class.