Our vegan, gluten-free, sugar-free, and flour-free cakes are the ideal choice for those who wish to maintain their health but still enjoy their favorite cakes. Our cakes don't include maida, so you can eat without feeling guilty. You can experience a whole new level of comfort because our cakes are also egg-free. In this course, we are committed to giving you eggless, nutritious cakes.
Join our detailed online video tutorials to learn how to make delectable healthy cakes that have the perfect texture, and are very moist, and soft. They are surprisingly quick and easy to make. Learn now, so that you can gift  your family and friends one of our healthy cakes.
(Look below to learn what our ONLINE students have to say about this course).
Topics Covered:
(Our creations are made with Jowar, Ragi, Besan, Wheat, and Quinoa flour. Enjoy vegan, gluten-free, and sugar-free OPTIONS in this class. No maida used. Indulge guilt-free in these delicious, nutritious cakes. Taste the goodness today!)
Gluten free Chocolate Quinoa Cake
Gluten free, Vegan & Sugar free Carrot Cake
Sugar free Multigrain Chocolate Cake
Gluten free Jowar Cake
Sugar free Wheat Cake
Sugar free Ragi Cake

Fee @ Rs.1500/-
Made by ONLINE students after watching the video tutorials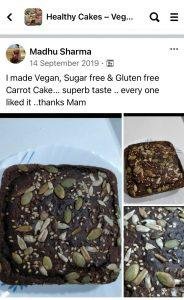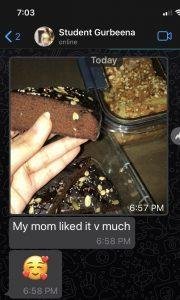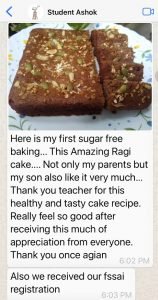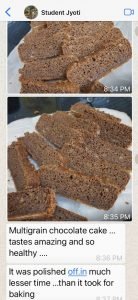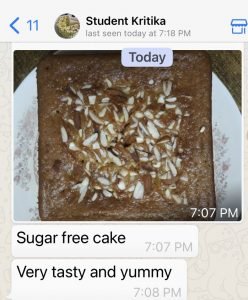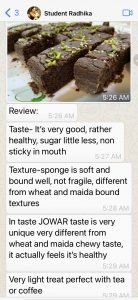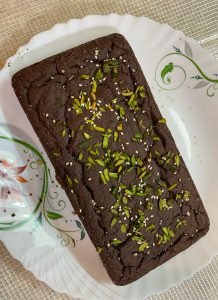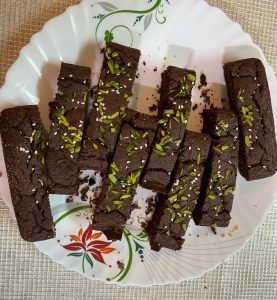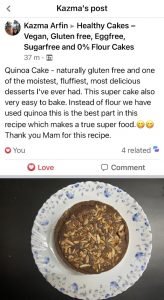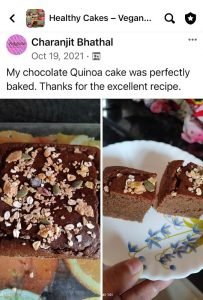 Online Class Details:
24×7 Access to Prerecorded videos for 2 months.
Learn from the comfort of your home.
Special secret tips & techniques shared.
Life time support over messenger and WhatsApp.
Recorded with clear audio and video quality.
JOIN FROM ANYWHERE!!
Method of Instruction: Video Tutorials & PDF Notes
Call/ Whatsapp 9560600056 now and REGISTER for the ONLINE class.