Gluten-free loaves are popular because they are rich in a range of grain flours and, unlike regular wheat or maida breads, they promote a healthy digestive tract. You will find step-by-step instructions for making these nutritious breads in our video tutorials.
(Look below to watch a preview of our ONLINE pre-recorded Class).
 Topics Covered:
Gluten-Free Breakfast Loaf
Gluten-Free Sandwich Loaf with Sun Dried Tomatoes & Garlic
Gluten-Free Spinach & Oat Bread with Creamy Spinach Topping
Gluten-Free Almond & Chocolate Bread
Gluten-Free Quinoa Bread
Gluten-Free Zucchini Bread
Gluten-Free Jowar Bread
Gluten-Free Ragi Bread
Fee @ Rs.2500/-
NOTE:
Due to absence of gluten, the Gluten free bread is more dense and heavy, and lacks the light and airy texture of the normal bread.
Bottomline: Do not expect gluten free bread to be soft & fluffy!!
Most IMPORTANTLY, the gluten free breads are free from preservatives, molasses, improvers, acidity regulators, flour treatment agents, artificial colours, and emulsifiers. They are nutritious and, tasty too!
A preview of our ONLINE (pre-recorded) Class 
Made by ONLINE students after watching the video tutorials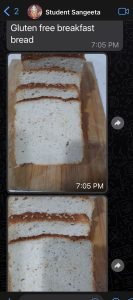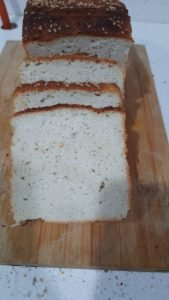 Online Class Details:
24×7 Access to Prerecorded videos for 2 months.
Learn from the comfort of your home.
Special secret tips & techniques shared.
Life time support over messenger and WhatsApp.
Recorded with clear audio and video quality.
JOIN FROM ANYWHERE!!
Method of Instruction: Video Tutorials & PDF Notes
Call/ Whatsapp 9560600056 now and REGISTER for the ONLINE class.