Are you ready to transform your mornings with the delightful aroma of freshly baked, gluten-free muffins? Welcome to our exclusive course, where we unveil a closely-guarded secret technique for crafting your very own gluten-free flour. At our virtual kitchen, we're all about breaking free from pre-made gluten-free recipes and creating magic from scratch. Indulge in moist, scrumptious gluten-free muffins, paired with a steaming cup of tea – a combination that's bound to become your daily addiction. Join our step-by-step video course and become a gluten-free baking virtuoso, pleasing not only your taste buds but those of your loved ones as well.
Unveiling the Magic of Gluten-Free Muffins: Dive into our comprehensive course, where we'll teach you the art of crafting exceptional gluten-free muffins, sans the fuss of pre-made mixes. Here's a sneak peek at the tantalizing muffin varieties we'll be baking together:
Homemade Gluten-free Flour Blend: Discover the secret behind creating your gluten-free flour blend, empowering you to take control of your baking like never before.
Gluten-free Coconut Muffins: Transport your taste buds to a tropical paradise with our luscious coconut-infused muffins, a taste of pure indulgence.
Gluten-free Blueberry Muffins: Experience the burst of juicy blueberries in every bite, encapsulated in a gluten-free, tender muffin.
Gluten-free Chocolate Muffins: Satisfy your chocolate cravings with our decadent gluten-free chocolate muffins – pure chocolatey bliss.
Gluten-free Lemon Muffins: Liven up your mornings with zesty lemon-flavored muffins, delivering a refreshing twist to your breakfast routine.
Gluten-free Banana Muffins: Delight in the natural sweetness of ripe bananas in our gluten-free muffins, a true classic with a gluten-free twist.
Gluten-free Coffee Muffins: Start your day with an extra kick of energy – our coffee-infused gluten-free muffins are here to power your mornings.
Gluten-free Spinach & Cheese Muffins: Explore a savory dimension with our gluten-free spinach and cheese muffins, perfect for those who prefer a hearty start to the day.
Gluten-free Pistachio & Khoya Muffins: Experience the luxurious blend of pistachio and khoya in these gluten-free muffins, a taste of opulence.
Gluten-free Fig & Apricot Muffins: Indulge in a delightful medley of dried figs and apricots, creating a burst of flavor in every bite of these gluten-free treats.
Join the Gluten-Free Muffin Revolution: Elevate your baking skills and relish the art of crafting gluten-free muffins that are tender, moist, and utterly delectable. Our step-by-step video course will guide you through every recipe, ensuring that your muffins turn out flawlessly, every time. Share the love with your family and friends by baking a batch today. It's time to create mornings that are truly special with our irresistible gluten-free muffins. Join us on this delicious journey!
Fee @
Made by ONLINE students after watching the video tutorials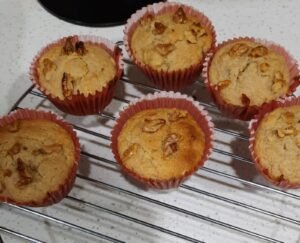 Online Class Details:
24×7 Access to Prerecorded videos for 2 months.
Learn from the comfort of your home.
Special secret tips & techniques shared.
Lifetime support over messenger and WhatsApp.
Recorded with clear audio and video quality.
JOIN FROM ANYWHERE!!
Method of Instruction: Video Tutorials & PDF Notes
Call/ Whatsapp 9560600056 now and REGISTER for the ONLINE class.