The ideal gift is Homemade Flavored Nuts in jars! The nicest thing is that crafting them and delivering them to others is just as enjoyable as receiving them. Placing the delicious Flavored Nuts in a jar and adding a festive ribbon and tag can turn it into a thoughtful gift crafted with love. In our in-depth video lessons, you can learn how to produce flavored nuts. Make them at once!
(Look below to learn what our ONLINE students have to say about this course).
Topics Covered:
Caribbean Nuts
Peri Spiced Makhanas
Sesame Honey Almonds
Gulkand Makhanas
Balsamic Herbed Nuts and Sun-Dried Tomatoes
Caramelized Makhanas
Jeera Spiced Cashwenuts
Cheesy Makhanas
Makhana Barbeque
Tangy Nuts & Tomatoes
Blue Lagoon Makhanas
Strawberry Cashews
Onion & Sour Cream Makhanas
Chocolate Makhanas
Hot & Sour Makhanas

Fee @ Rs.1500/-
Made by ONLINE students after watching the video tutorials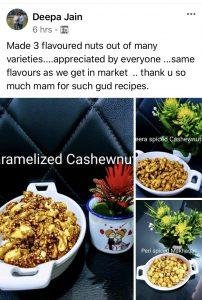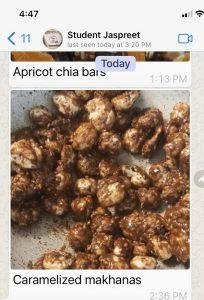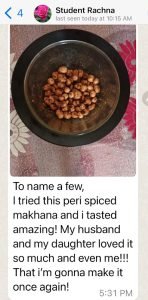 Online Class Details:
24×7 Access to Prerecorded videos for 2 months.
Learn from the comfort of your home.
Special secret tips & techniques shared.
Life time support over messenger and WhatsApp.
Recorded with clear audio and video quality.
JOIN FROM ANYWHERE!!
Method of Instruction: Video Tutorials & PDF Notes
Call/ Whatsapp 9560600056 now and REGISTER for the ONLINE class.