Homemade Flavored Nuts in Jars is the perfect gift idea!! And the wonderful thing is, they're as much fun to make together, as they are to give to others! Simply layer the ingredients of a treasured recipe in a jar, then add a festive ribbon and tag, and there you have it – a thoughtful gift made with love!
Topics Covered:
Caribbean Nuts
Peri Spiced Makhanas
Sesame Honey Almonds
Gulkand Makhanas
Balsamic Herbed Nuts and Sun-Dried Tomatoes
Caramelized Makhanas
Jeera Spiced Cashwenuts
Cheesy Makhanas
Makhana Barbeque
Tangy Nuts & Tomatoes
Blue Lagoon Makhanas
Strawberry Cashews
Onion & Sour Cream Makhanas
Chocolate Makhanas
Hot & Sour Makhanas
Made by ONLINE students after watching the video tutorials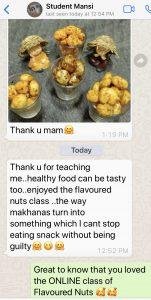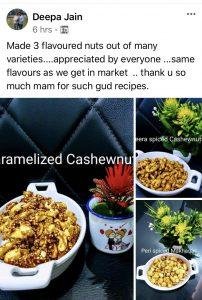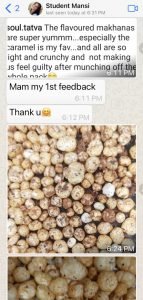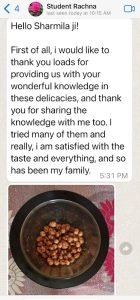 Online Class Details:
24×7 Access to Prerecorded videos for 2 months.
Learn from the comfort of your home.
Special secret tips & techniques shared.
Life time support over messenger and WhatsApp.
Recorded with clear audio and video quality.
JOIN FROM ANYWHERE!!
Method of Instruction: Video Tutorials & PDF Notes
Call/ Whatsapp 9560600056 now and REGISTER for the ONLINE class.