Let's make CHOCOLATE! They're: Creamy, Rich, Flavorful, Chocolaty, Perfectly sweet, Easy to make, Customizable & Seriously delicious!!
Topics Covered:
Homemade Chocolate Base
Candy Caramel Fudge
Strawberry Bon Bons
Rum Bon Bons
Peanut Butter Bark
Homemade Sugar free & Vegan Chocolate Base
Unicorn Bark
Boozy Bon Bons
Pistachio & Rose Petal White Chocolate Bark
Caramel Chocolate Popcorn
Sugarfree & Vegan Pecan Rocks
Sugar free Date Rocks
Chocolate Coffee Bon Bons:
Blue Lagoon Bon Bons
Vegan Chocolate Bubblegum Bombs
Lavender Chocolate Truffles
Lemon Cream Bon Bons
Nutella Fudge
Black Currant Cream
Chocolate Coconut Bites
Glossy Chocolates
Made by ONLINE students after watching the video tutorials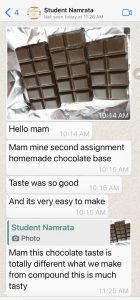 Online Class Details:
24×7 Access to Prerecorded videos for 2 months.
Learn from the comfort of your home.
Special secret tips & techniques shared.
Life time support over messenger and WhatsApp.
Recorded with clear audio and video quality.
JOIN FROM ANYWHERE!!
Method of Instruction: Video Tutorials & PDF Notes
Call/ Whatsapp 9560600056 now and REGISTER for the ONLINE class.