To make delicious liqueur chocolates, the finest booze and fruit juices are mixed with quality chocolate. The two different categories are cocktail centres and mocktail centres. There are flavours of wine, rum, whisky, and other alcoholic beverages in this all-in-one liquor chocolate. Chocolates with fruit juice infusions are also taught.
In our video lessons, we provide step-by-step instructions for making liquor-filled chocolates. Bring a unique chocolate flavour to your taste buds. Join right away to reward your friends!
(Look below to learn what our ONLINE students have to say about this course).
Topics Covered: 30 different varieties of Liqueur Chocolates
Rum Chocolate
Wine Chocolate
Vodka Chocolate
Whisky Chocolate
Orange Colada Liqueur
Screw Driver
Strawberry Delight
Adam's Apple
White Cloud
Fruity Punch
Orange Blossom
Pineapple Desire
Green Field
Rum Cream
Pinacolada Liqueur
All Yours Honey
Go with The Flow
Rose Cream Liqueur and many more!!

Fee @ Rs.1500/-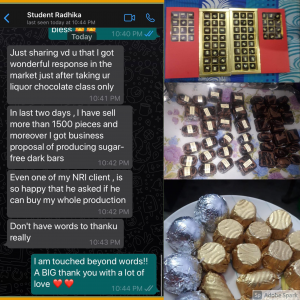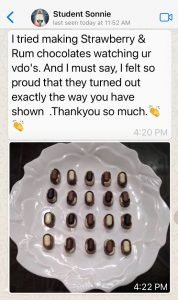 Online Class Details:
24×7 Access to Prerecorded videos for 2 months.
Learn from the comfort of your home.
Special secret tips & techniques shared.
Life time support over messenger and WhatsApp.
Recorded with clear audio and video quality.
JOIN FROM ANYWHERE!!
Method of Instruction: Video Tutorials & PDF Notes
Call/ Whatsapp 9560600056 now and REGISTER for the ONLINE class.