This class is all about unlocking your culinary creativity and supercharging your business. We're not just here to teach you recipes; we're here to ignite your imagination and help you craft one-of-a-kind cake flavors. Imagine the joy of presenting your customers with unique creations that keep them coming back for more. This isn't just about cakes; it's about taking your brand to the next level and boosting your profits. Exclusive flavors and visually stunning cakes have the potential to work wonders for your business. Happy customers turn into loyal fans, and their recommendations can lead to remarkable growth. Our classes provide the expertise and guidance you need to turn these possibilities into realities, making your investment in learning truly invaluable for your business's success.
This course offers, various flavors of gourmet tea time cakes are available to make any day unique. We have something for everyone, including classic Tea Time pastries and creative takes on old favorites. For an afternoon tea or as a special weekend treat, our Gourmet Tea Time cakes are ideal. Learn how to bake these delectable cakes by enrolling in our in-depth online video tutorials.
Topics Covered:
Layered Honey Cake
Fig & Apricot Cake
Classic Pound Cake
Thandai Cake
Strawberry Cake

Fee: Rs.2200/-
Made by ONLINE students after watching the video tutorials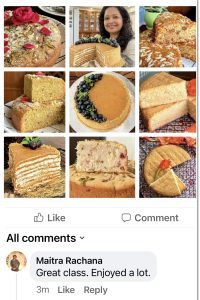 Online Class Details:
24×7 Access to Prerecorded videos for 2 months.
Learn from the comfort of your home.
Special secret tips & techniques shared.
Lifetime support over messenger and WhatsApp.
Recorded with clear audio and video quality.
JOIN FROM ANYWHERE!!
Method of Instruction: Video Tutorials & PDF Notes
Call/ Whatsapp 9560600056 now and REGISTER for the ONLINE class.