On cupcakes, American Buttercream is a traditional icing that is excellent! These floral buttercream cupcakes are the simplest, quickest, and easiest way to design cupcakes for a last-minute celebration or giveaway.  In this online tutorial,  I'll show you how easy it is to use the Russian piping tips nozzles. The flowers will also guarantee that you construct these flawlessly each and every time using my recipe for American Buttercream, in addition to guaranteeing that you enjoy the experience.
(Look below to learn what our ONLINE students have to say about this course).
Topics Covered:
Baking Egg free Vanilla Cupcakes
Preparation of the American Buttercream
Use of Russian Nozzles
Designing on the Cupcakes
Fee @ Rs.2000/-
Made by ONLINE students after watching the video tutorials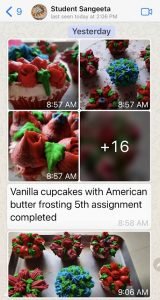 Online Class Details:
24×7 Access to Prerecorded videos for 2 months.
Learn from the comfort of your home.
Special secret tips & techniques shared.
Life time support over messenger and WhatsApp.
Recorded with clear audio and video quality.
JOIN FROM ANYWHERE!!
Method of Instruction: Video Tutorials & PDF Notes
Call/ Whatsapp 9560600056 now and REGISTER for the ONLINE class.