Students who are interested in learning the actual skill of working with whipping cream should attend this class on Whipped Cream with Sharp Edges. You will be guided through each step of creating whipped cream cakes in our detailed step-by-step video tutorial, from consistency to techniques, and you will soon be able to create beautiful cakes with sharp edges. Join our online course right away to learn how to use whipped cream to make perfect crisp edges and smooth surfaces on your cakes. Our cutting-edge methods will make it easier for you to master the talent.
(Look below to learn what our ONLINE students have to say about this course).
Topics Covered (Includes baking of the cake bases & icing):
Pineapple Bavarian Cake includes baking of the cake base & icing
Chocolate Mascarpone Cake includes baking of the cake base & icing
Strawberry Mousse Cake includes baking of the cake base & icing
Making the Perfect Whipping Cream
Torting of the Cake
Fill and Stack the Cake Layers
Create the Crumb Coat
Frosting the Cake
Decorating with whipped cream flowers
Piping designs using different nozzles
Obtain rounded edges and smooth surfaces
Fee @ Rs.2000/-
Made by ONLINE students after watching the video tutorials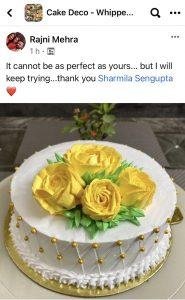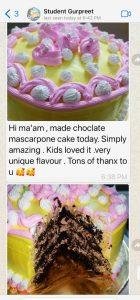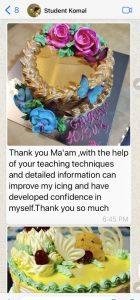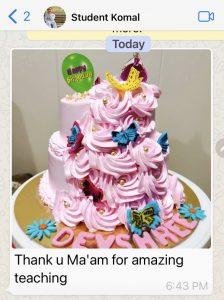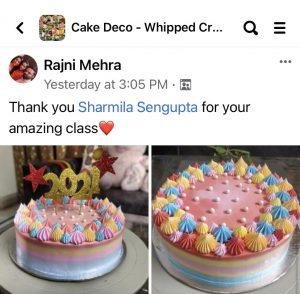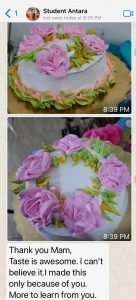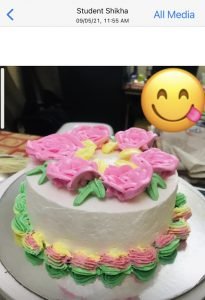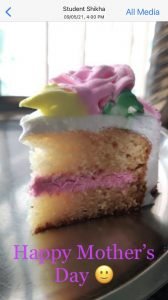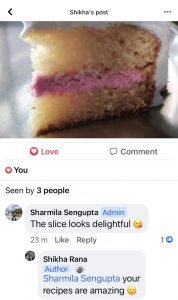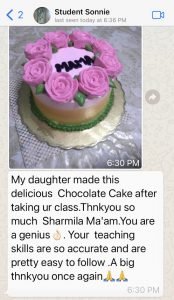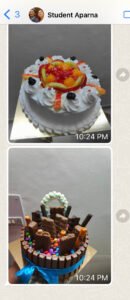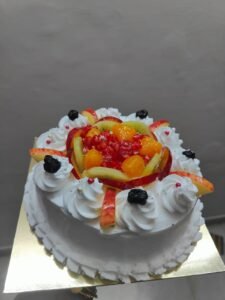 Online Class Details:
24×7 Access to Prerecorded videos for 2 months.
Learn from the comfort of your home.
Special secret tips & techniques shared.
Lifetime support over messenger and WhatsApp.
Recorded with clear audio and video quality.
JOIN FROM ANYWHERE!!
Method of Instruction: Video Tutorials & PDF Notes
Call/ Whatsapp 9560600056 now and REGISTER for the ONLINE class.